Apple's highly anticipated Vision Pro headset was finally unveiled at WWDC 2023, and it's nothing short of revolutionary. This article delves into the details of this groundbreaking device that promises to reshape how we interact with technology.
A Glimpse of the Future
Vision Pro is more than just another augmented reality (AR) or virtual reality (VR) headset. It's a mixed-reality (MR) marvel with a sleek, lightweight design. At first glance, it resembles a fashionable pair of ski goggles with a comfortable, curved shape that suits various face sizes.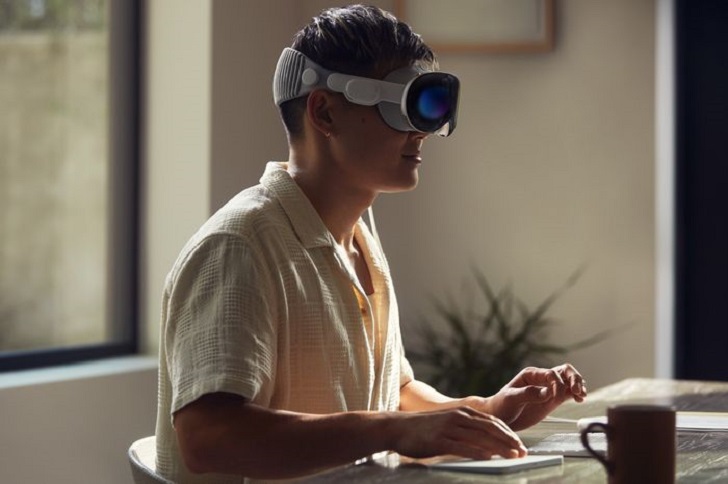 Apple's trademark attention to detail is evident in the design, from the silvery power cord to the iPhone-sized battery pack that provides two hours of uninterrupted use. The headset's standout feature is its spatial audio, delivered through tiny bumps on the band's sides.
A cluster of sensors and cameras wait to capture your surroundings under the front-facing glass. Thanks to Apple's in-house silicon, a clever vent system ensures that the headset remains cool during extended use.
Seeing the World Through Vision Pro
One of the most distinctive aspects of Vision Pro is its ability to let users see through the front screen. When the display pulses softly with light, you're no longer confined to the headset's digital realm—a novel approach that some may find intriguing, if not unsettling. The true test, however, will be its comfort during prolonged use and whether it delivers on its promises.
Apple envisions Vision Pro as a potential computer or television monitor replacement. With panels boasting a staggering 23 billion pixels—well beyond the capabilities of a 4K TV—it has the potential to redefine how we consume visual content. Imagine watching your favorite shows, sports, and movies without a physical TV.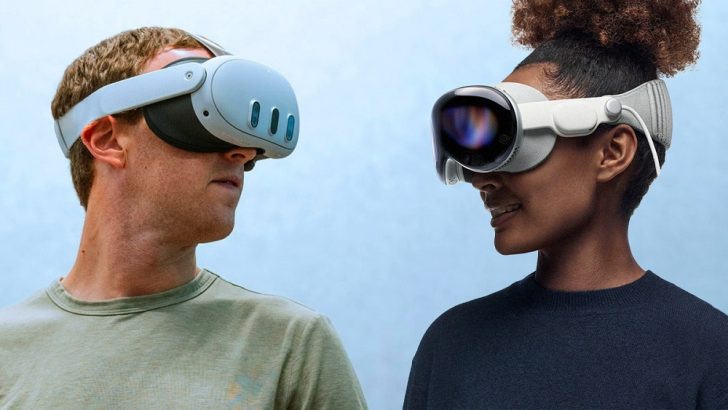 A Challenger to Meta's Quest
Apple's Vision Pro is poised to challenge Meta's Quest products, signaling a new front in the tech industry's metaverse battle. Meta's Quest offerings may be defensive as Apple's innovative headset takes center stage.
During the WWDC presentation, Apple demonstrated how Vision Pro seamlessly integrates with daily life, overlaying iOS applications, movies, and images onto your surroundings. The fact that even an 88-year-old user can appreciate its potential suggests that spatial computing could soon go mainstream.
Yet, it's too early to count Meta out entirely. Not everyone may be ready to embrace these headsets for extended periods, especially in social settings. Apple's ecosystem, however, provides a significant edge, and developers will play a crucial role in unleashing Vision Pro's true potential.
The Emergence of a Killer App
Vision Pro has the potential to become one of the most coveted tech products in 2024, provided it lives up to Apple's lofty promises. Like Lotus 1-2-3 did for the IBM PC, a killer app could emerge, solidifying its status as a must-have device. As users become more accustomed to the headset, the demand for content will likely drive its popularity.
Though its starting price of $3,499 may seem steep, it's worth noting that Apple's premium reputation has allowed it to defy price elasticity concerns in the past. Moreover, Vision Pro represents a new platform—spatial computing—that could eventually replace laptops, tablets, and smartphones.
The Long Game
While many focus on Vision Pro's high price, Apple views it as a long-term investment. The company has presented a compelling vision of augmented reality's potential thanks to seamless integration with its hardware and software ecosystem.
This competitive advantage could prove crucial in the battle against Meta. In this evolving world of spatial computing, it's too early to declare a victor. However, based on Apple's WWDC presentation, Vision Pro might be among the few products to live up to the hype.
Time will tell if it achieves the monumental impact Steve Jobs often mentioned—a dent in the universe. Bet against it at your own risk. Apple's Vision Pro is set to change the game, and the world is watching.